Cake cream - Chocolate Brownies Recipe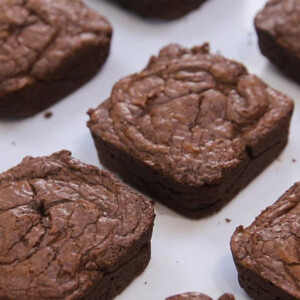 Difficulty:
Prep time: 10 min
Delicious Chocolate Brownies have never been easier using the new and incredible Cake Cream!
Ingredients
200g Cake Cream

70g Butter

70g Dark Chocolate

30g Cocoa Powder

125g Plain Flour
Method
Melt chocolate and butter and set aside.

Combine cake cream and 125g of water

Pour in chocolate and butter mixture and mix.

Sieve cocoa powder and flour into your mix and mix till combined (Do not over mix).

Fill tin with brownie mixture. 

Bake at 180c for 20-30 mins or until a nice crust has formed but the inside is still gooey. You want to leave these slightly undercooked to get that gooey brownie centre.
Hints
For the Marshmallow Topping whip up 100g of your cake cream with 35g of water until it forms stiff peaks and pipe. If you want a toasted marshmallow flavour use a blow torch. YUM!