Cake cream - Cupcake Recipe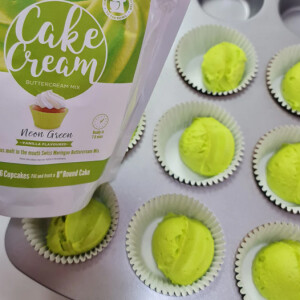 Difficulty:
Prep time: 10 min
Cake Cream is not only for buttercream but you can create amazing cupcakes too!
Ingredients
215g Cake Cream (any colour or flavour)
215g Soft Butter
135g Warm Water
215g Self Raising Flour
Heaped 1/4tsp Baking Soda/Bicarbonate Soda
Method
Combine Cake Cream with softened Butter using and mix. You can use a Stand mixer or Electric hand mixer.
Slowly add water at a medium spend until combined.
Sift flour and baking soda into your bowl and mix carefully till fully combined. Do not over mix!
Use an ice cream scoop of spoon to fill your cases about 1/2 way.
Place into your preheated oven to fan 150c. Bake for 25 minutes or until the tops become a light golden brown.