Cake cream - Macaron Recipe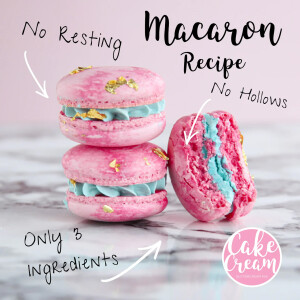 Difficulty:
Prep time: 10 min
Create the perfect Macarons with the use of the new incredible Cake Cream!
Ingredients
125g Cake Cream (any colour or flavour)
45g Water (weighted on scales straight into mixing bowl)
100g Almond Flour (sieved to remove large bits and weighed after sieving). Different brands will give different results. Cake Cream have had success with Sowans almond Flour, Supervalu Ground almonds and Aldi Ground Almonds. With the ground almonds you must only sieve 100g out of a whole 200g bag. With the Sowans almond flour you will get 250g out of a whole 300g bag.

Ensure to weigh all ingredients on a digital scale including the boiling water.

Method
Preheat oven to 135ºc and line baking tray with parchment paper.
Add Cake Cream and water to mixer and stir to combine.
Whisk on high till stiff peaks form (6-10 mins depending on mixer).
Remove and fold in almond flour.
Keep folding until your batter falls off your spatula in a continuous ribbon and you can draw a figure of 8 with the ribbon without it breaking. Mix no more than 2 minutes!
Fill piping bag with a small round nozzle or just cut your bag if you don't have one.
Pipe onto parchment paper. Keep your piping bag straight, hold it about 1cm away from your parchment and squeeze holding it in place. Stop squeezing and move the nozzle in a semi circle and lift off.  You can use a template for this. Just place under your parchment when piping and remove after.
Tap your baking tray on your counter 2/3 times to remove and bubbles and help settle tops. Leave for 1-2 minutes if the tops aren't flat still.
No need to rest! Bake straight away for approx. 18 minutes at 135c. They will be done if you can gently press the tops and they don't move.
Remove from oven and allow them to cool for 10 minutes till you remove from parchment.
Hints
Cooking time/temperature may vary with different ovens.